The iconic, press-loving minister of antiquities has been given the sack, as reported by the
Associated Press
: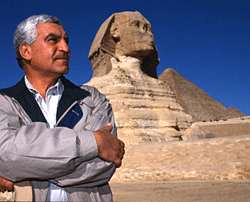 Egypt's antiquities minister, whose trademark Indiana Jones hat made him one the country's best known figures around the world, was fired Sunday after months of pressure from critics who attacked his credibility and accused him of having been too close to the regime of ousted President Hosni Mubarak.
Zahi Hawass, long chided as publicity loving and short on scientific knowledge, lost his job along with about a dozen other ministers in a Cabinet reshuffle meant to ease pressure from protesters seeking to purge remnants of Mubarak's regime.
"He was the Mubarak of antiquities," said Nora Shalaby, an activist and archaeologist. "He acted as if he owned Egypt's antiquities, and not that they belonged to the people of Egypt."
Despite the criticism, he was credited with helping boost interest in archaeology in Egypt and tourism, a pillar of the country's economy.
Read more: http://www.mysanantonio.com/news/article/Egypt-s-iconic-antiquities-chief-fired-1470020.php#ixzz1SSojqQTO